2018 SWOCC Elliott State Forest Draft Recreation Plan
Chapter 11. Ethnobotany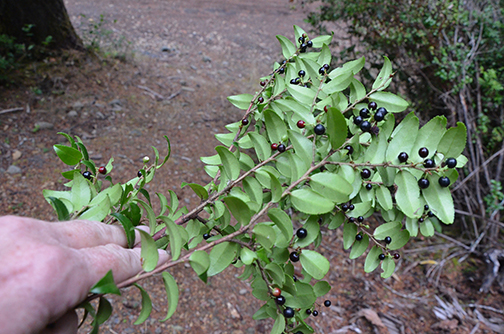 Fig. 11.1. Ripe Huckleberries, Huckleberry Point, October 10, 2017. Photo by Bob Zybach.
Ethnobotany
By Cody Harkins, Matthew Hofenbredl, and Abigail Richards
Ethnobotany is a wide spread practice throughout the U.S. This chapter of the recreation plan is going to focus on past and current uses of ethnobotany in the Elliott State Forest. It will also focus on the potential for School Trust advantages and barriers of the development of the use of ethnobotany. Lastly, there will be recommendations for development, improvement, and use of ethnobotany in the Elliott. Ethnobotany is the scientific study of the traditional knowledge and customs of a people concerning plants and their medical, religious, and other uses.
Current use on Elliott
There are many plant species located in the Elliott State Forest that can be used for many different things. For example, the Himalayan blackberry is an invasive plant species that is used in many foods. The Himalayan blackberry was introduced to North America in the early nineteenth century and is now an invasive species. The Himalayan blackberry was brought to the U.S. because it grew berries quickly. Natives called them "the white man's berry." These berries are delicious by themselves but can be used for pies and other things.
Mushrooms are another plant that people like to harvest. Morel mushrooms are worth between six and eight dollars per pound if they are sold to mushroom buyers. People enjoy picking various species of mushrooms to eat or sell. Morel mushrooms can be found here in the spring. They are nutrient rich and have some unique values. Morels can protect your liver and they can help build your immune system, and they are also a great source of vitamin D.
Salal is another species that is widespread and harvested on the coast. Salal produces an edible berry that ripens in the late summer. The berries are blue to dark purple with thick skins. Although I do not know anyone who harvests the berries; I have heard that natives still harvest them.
Cedar boughs are commonly harvested in woodland areas such as the Elliott. Historically cedar boughs have many uses including clothing, decoration, and medicine. Cedar boughs can be found in wreaths during the holidays. They have also been used to decorate longhouses. Cedar, specifically the western redcedar (Thuja plicata), is important to native culture on the southern Oregon Coast. They used cedar boughs and bark to create clothing. Another use was for canoes. "Canoes were important and were taken everywhere" (Phillips 2016: 6). Cedar bark is prized for its durability, flexibility, and water resistance, making it a prime material to make canoes from. Cedar was, and is still, important in native culture.
Huckleberries are another important species to people here on the southern Oregon Coast. There are many uses for huckleberries including food and medicinal purposes. Here on the south coast we have red and black huckleberries.
Table 11.1. Elliott Wild Plant Harvesting Seasons.
Species

Jan

Feb

Mar

Apr

May

Jun

Jul

Aug

Sep

Oct

Nov

Dec

Himalayan Blackberry

X

X

X

Morel
Mushrooms

X

X

X

X

X

X

X

Salal

Xx

Xx

Xx

Xx

X

X

X

X

Cedar Boughs

X

X

X

X

X

X

X

X

X

X

X

X

Cedar Bark

X

X

X

X

X

X

X

X

X

X

X

X

Red Huckleberry

X

X

X

X

Wild Strawberry

X

X

X

X

X

X

Myrtle Nuts

X

X

X
X=Primary Use

x=Secondary Use

Potential for School Trust advantage
The Department of State Lands could potentially sell permits for harvesting certain plant species. Permits for harvesting should be relatively cheap if they are for personal use, and a separate permit for commercial profit. Personal use permits could run $10-$20 and commercial use permits could run $50-$100. In a year, an estimated 100 personal permits and 50 commercial permits could be sold, creating $1,000-$5,000, creating revenue for the School Trust Fund. Plants such as blackberries or huckleberries would be excluded from these permits because they are invasive and plentiful. Permits could be issued for cedar boughs, and mushrooms, because they can be highly valued. Permits are a good idea; however, people may go to other public land to harvest where it does not cost money (Shaun Harkins, personal communication, 2018).
Barriers to development
The Elliott is densely forested and is steep in many parts. Due to the vastness of the land here it is complicated to navigate the logging roads in the Elliott. Some, if not all, tourists may not be able to move around on the land here easily. Access to the Elliott is limited to five main entrances at Marlow Creek, Larson Inlet, Loon Lake, Lakeside, and Scholfield Creek; aside from a handful of unmaintained backroads. These backroads, as well as the main roads are in rough shape with many potholes; because of this, many may not want to go to the Elliott to harvest.
Recommendations for/against development/use
There are many improvements that can be made in order to make the Elliott a desirable place for people to go harvest different plant species. Some areas of the Elliott could be thinned to get rid of some the understory that dominates the Elliott to create room for edible plants to grow. Roads can be improved and maintained to make access easier, and more leisurely. Signs can be posted leading to areas where some plant species are more common to help people find a good area to harvest them.

© 2017, 2018 Oregon Websites & Watersheds Project, Inc. & NW Maps Co.