Databases & Indexes, pre-1800 - 2012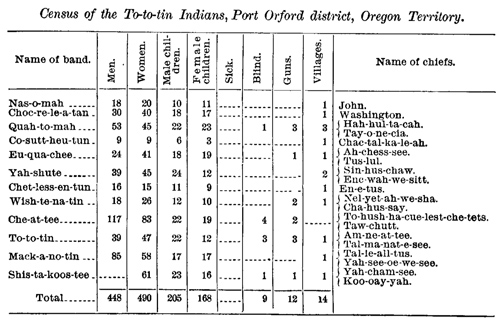 Click to enlarge. Indian Agent and Reverand Josiah Parrish's census and report excerpt, July 10, 1854 (US Senate 1893: 29; Dodge 1898: 105).
[NOTE: A large portion of this website was damaged by webmaster error about noon, Thursday, January 10. Most of the damage was repaired within 24 hours, and most of the remainder has been repaired since then. The HTML files on this page are the remaining tables needing attention, and should be functional again by January 30,, or sooner. In the interim, the Excel and PDF files that are the basis of the HTML pages remain in good shape and are fully functional.]
This portion of the Coquelle Trails report is based on the six project Excel index/database files. They have also been modifed and edited into PDF format -- as citable excerpts from Volume II of the formal report -- and as HTML tables with active links for this website version of the report.
All three versions are available here: PDF Table numbers correspond to the same tables and page numbers used in the printed report and can be referenced accordingly; a strong advantage of Excel files is their ability to be modified, edited and sorted in a wide variety of ways; HTML tables [see NOTE: above]are most useful for researching specific locations and credible references.
All three database varieties provide excellent indices for conducting research based on early historical maps, survey notes, and other historical data; and are all cross-referenced by standard legal descriptions and historical landmark names.
One problem for the uninitiated reader is the great number of abbreviations and acronyms that crop up during these types of records. The "Acronym & Abbvs." link below will help serve as a handy reference to these uses until they become more familiar.
| | | | |
| --- | --- | --- | --- |
| | | Index: 232 General Land Office (GLO) DLC & Tsp. subdivision Maps, 1856 - 1934 | |
| | | Index: 527 dated & cited GLO survey notes re: roads & trails, 1855 - 1934 | HTML |
| | | Index: 50 Proprietary USGS 7.5' Quadrangle Field Maps, w/ annotations & GLO Map cross-references, 2011-2012 | HTML |
| | | Timeline: 238 historical events specific to the study area, 1826-1876 | |
| | | Index: 407 historic study area place names & locations, pre-1800-1900 | HTML |
| | | Index: 171 documented early historical study area road & trail segments, 1855-1934. | HTML |