Annotated Bibliography For the Years 1826 - 1900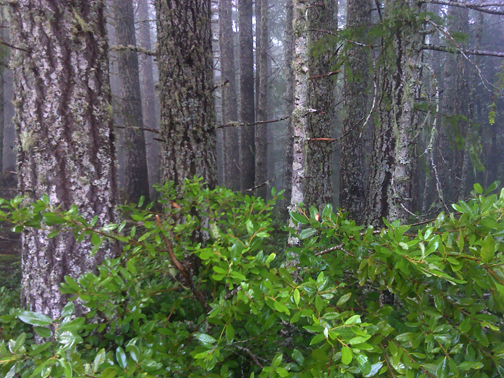 Douglas-fir & Rhododendron, Panther Ridge, November 29, 2011 (georeferenced photo by B. Zybach).
This bibliography is derived from Zybach & Ivy 2013: 74-93. It is specific to the 1826 to 1900 time period and is focused on the Coos Bay and Coquille River basins and Pacific coastlands south to Humbug Mountain. It has been assembled for the general reader with an interest in the early histories of Coos and Curry counties and is, essentially, an organized list of recommended books and authors on these topics, with a brief description of each book's contents.
This bibliography is further limited to published books and does not include articles, documents, monographs, diaries, journals, newspaper accounts, government reports, correspondence, or other important sources of historical information – unless it has been compiled into book form. However, these types of sources are effectively used by many of the authors of the following selections, and are clearly referenced in most instances for those wishing to do more exacting research. The list has been organized into five categories: 1) Principal Historians; 2) Regional Historians; 3) Local Historians; 4) Topical Historians; and 5) Academicians.
Peterson, Emil R. & Alfred Powers
***********************
Annotated Bibliography to Coquelle Trails History: www.ORWW.org/Coquelle_Trails/References/Zybach-Ivy_2013/Volume_I/Part_3.html [PDF_204_KB]
References to General Land Office Surveyors' Field Notes: www.ORWW.org/Coquelle_Trails/Land_Surveys/References.html
References to Southwest Oregon Indian History: www.NWMapsCo.com/ZybachB/Reports/2007_Newton_OSU-BLM/index.html [PDF_37_KB]
References to South Umpqua River History: www.ORWW.org/Rivers/Umpqua/South/References/index.html
References to Southwest Oregon Wildfire History and Sciences: www.ORWW.org/Wildfires/Biscuit/References/Index.html