"Wild Life in Oregon"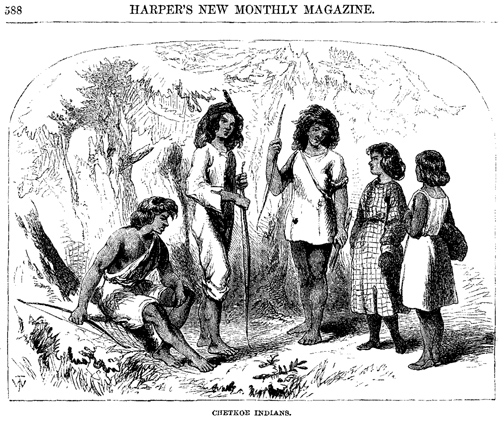 Chetkoe Indians (Wells 1856: 588)
Wells, William V. 1856. "Wild Life In Oregon," Harper's New Monthly Magazine. Vol. XIII: 588-608. [PDF_04_mb].
William Wells' illustrated account of his 1855 to 1856 visit to Coos County was published in the Harpers New Monthly Magazine, Volume XIII, June - November, 1856 edition. The drawings were made by William H. Thwaites, an artist living in New York at that time. Several of them appear to be fairly accurate and are likely based on eyewitness sketches made by Wells or someone else familiar with these details.
The text from this article was integrated into Zybach 2012, in context to other local writers and observers of that time. Key drawings were used on the covers and to illustrate the Coquelle Trails report and this website. Selected illustrations are also provided below, and are likewise placed in context by citable references to scans of individual pages, made directly from an original publication.