Elliott State Educational Forest
Deans Mountain Field Trip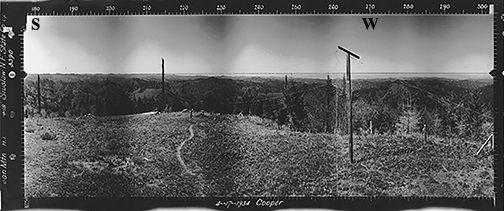 April 17, 1933 "Osborne" photograph by Robert Cooper of southwest viewpoint from Deans Mountain Lookout. Ocean and dunes can be seen in the background.
The May 29, 2018 SWOCC Forest Recreation field trip began at the head of tidewater on Mill Creek and focused on the evolution of local transportation from canoe routes and foot trails to and through the Elliott that existed since precontact time, to pack trails, wagon roads, logging roads, and modern highways that exist today. Tour guides were Bob Zybach and David Gould. The photographs taken in 2017 were by Dr. Zybach during the course of a series of oral history interviews with Gould and Jerry Phillips; whose book (Phillips 1998) provides most of the history of the Deans Mountain and Cougar Pass Lookouts for the tour. Field Trip Handout: Two versions of the Deans Mountain Field Trip Handout are available: a 2018 PDF File: 17 pp. with active links and that can be directly printed; and a 2018 Word File: 17 pp. also with active links, and that can be edited and modified for future educational field trips.
The May 14, 2019 Deans Mountain Field Trip combined the 2018 Deans Mountain trip with the May 28, 2018 Tenmile Lakes Field Trip. This was due to the need to schedule the six 2019 SWOCC field trips into just five trips for the 2018 F251 Forest Recreation class. As one result, the thematic focus of the Tenmile Lakes trip regarding recreational fishing and the 1962 Columbus Day Storm road system was modified to focus on campground landscaping and management costs and on CCC road history. The 2019 student handout was also subsequently modified: 2019 PDF File: 12 pp.
Historical photos from the Jerry Phillips Collection can be found here: http://www.orww.org/Elliott_Forest/History/Phillips/Photographs.html
History of 1933 Deans Mountain Lookout Osborne Photographs: "We Climbed the Highest Mountains" (Arnst 2000)

© 2018-2019 Oregon Websites & Watersheds Project, Inc. & NW Maps Co.