Study Area Maps, 2012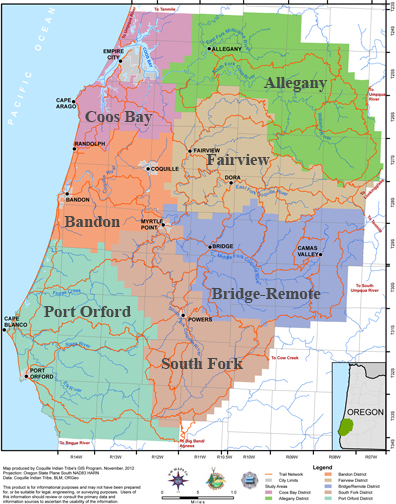 Click to enlarge. This is Map 03 of the 11 new maps created by this project to document early historical transportation networks, land marks, and place names in the study area. This map shows the seven "historical districts" developed for this project, and the principal foot and canoe trails which traversed and connected them during early historical time.
The following 11 maps are taken from the Coquelle Trails Report: the four (4) Study Area Maps depict study area boundaries, landmarks, and locations of principal foot and canoe routes throughout ancestral Coquille Tribal lands in early historical time; the seven (7) Historical District Maps provide a more localized scale, allowing for greater detail in regards to historic place names, travel routes, early historical communities, and the locations of 2500+ georeferenced photo points, taken during project field work in 2011. These maps are based on archival and field research performed by Zybach and Ivy during the 2011 calendar year, and were constructed in 2012 by Robin Harkins, Coquille Tribal GIS Coordinator, from project GIS layers she had assembled from the previous year's research findings.
| | |
| --- | --- |
| | Map_01_Historic_Trails_1826-1856. This map depicts the earliest known travel routes through the Coquelle Trails study area -- as documented by the earliest journalists, correspondents, and land surveyors to the region, and as located via subsequent field research. |
| | Map_02_Geographical_Location_Index. This map depicts project study boundaries in relation to modern highways, towns, and place names. The township and township subdivision boundaries are also shown, and serve as index to project databases. |
| | Map_03_Historical_Districts_Index. This map depicts the locations of the 7 (seven) Historical Districts comprising the study area: Allegany; Bandon; Bridge-Remote; Coos Bay; Fairview; Port Orford; and South Fork. |
| | Map_04_Photo_Points_Index-2011. This map shows the locations of the 2500+ georeferenced digitial photos taken during the 2011 calendar year. These photos document current landscape locations and conditions of the study area's historical travel routes and locations. |
In addition to using the "district" model of subdividing the study area into smaller components, the authors decided to borrow the name as well. Subbasin-scale maps of the study area were then arranged into seven separate "Historical Districts" of common history, geography, plants, animals, and waterways. The Districts were then named: Allegany; Bandon; Bridge-Remote; Coos Bay; Fairview; Bridge-Remote; Port Orford; and South Fork.
| | |
| --- | --- |
| | Allegany.This district includes most of the Coos River basin, from its mouth on Coos Bay to the headwaters of its South Fork, Williams River, and East Allegany River tributaries. Due to its rugged terrain and forest type, it appears that this district has not been heavily used (other than logging) or occupied by people for hundreds of years, if ever. |
| | Bandon.This district is formed by the Coquille River and its tributaries: from its mouth on the ocean, east to the head of tidewater at "the forks" near Myrtle Point. "They used the river for a highway, and their trails laced through the hills and valleys" (Ward 1986: 7). The principal north-south foot trail through this district was probably the sandy beaches that stretched along the coastline, with just one river and one headland to cross |
| | Bridge-Remote. This inland district is formed by the Middle Fork Coquille subbasin, separating the East Fork Coquille to the north from the South Fork Coquille to the south. This district includes the easternmost headwaters of the Coquille River, bounded by the watershed of the South Umpqua River. A defining feature of this district is Camas Valley, a relatively large white oak and camas growing prairie. |
| | Coos_Bay. This district is almost entirely defined by the tides: it extends northward to the extent of tidewater; southward to the watershed separating the Coquille River from the tidewaters of Coos Bay; eastward to the mouth of the Coos River; and west to the Pacific Ocean. People who lived on Coos Bay during early historical times relied almost exclusively on canoe transportation for most traveling of any distance. |
| | Fairview. This inland district is is bounded on the north by to South Fork Coos and Williamson River watersheds; to the south by the Middle Fork Coquille watershed; and to the west by the mainstem Coquille River watershed. By 1873 the Coos Bay Military Wagon Road had been constructed the entire length of this district, connecting Roseburg's railroad to Coos Bay's docks. |
| | Port_Orford. This district is bounded on the west by the Pacific Ocean; to the north by the Coquille River watershed; to the east by the South Fork Coquille watershed; and to the south by the Rogue River watershed. The district also includes the Sixes River, Elk River, New River, Floras Creek, and Fourmile Creek basins.The primary north and south trail through the district was probably the beach, with Humbug Mountain, The Heads, and Cape Blanco being the only places necessary to head inland. |
| | South_Fork. This inland district is formed by the South Fork Coquille subbasin. It is bounded on the south by the Rogue River watershed; the east by the South Umpqua River watershed; the north by the Middle Fork Coquille watershed; and the west by the Elk River, Sixes River, and Floras Creek watersheds. |