Elliott State Forest History: Jerry Phillips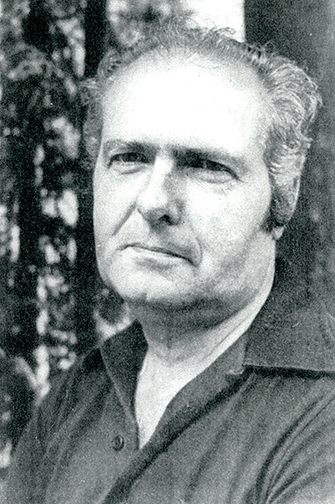 Jerry Phillips, Oregon Department of Forestry Coos Bay District Manager, 1981 (Phillips 1998: 334, 415; Zybach 2017a: 13).
The history of the Elliott State Forest has been best told and documented in book form by Jerry Phillips, Aileen Rickard (deceased), and Lionel Youst. Those books have generously all been made available for this website by Phillips and Youst and by David Gould, nephew of Aileen Rickard and a Gould-McClay family historian. In addition to their books, the authors and Gould have also provided dozens of historical maps and photographs, correspondence, family diaries, newspaper articles and other historical materials focused on the history and prehistory of "Oregon's First State Forest." Of these records, the most comprehenswive and insighfult accounts are provided by Phillips, who spent almost his entire career as a forester and forest manager on the Elliott from 1956 until his retirement in 1989.
"I'd been vaguely aware of the Forest's existence since attending Oregon State College, where it was described in college literature as an undeveloped State-owned forest of young timber lying between Coos and Umpqua Rivers, dedicated to educational purposes." (Jerry Phillips 1998: iii)
| | |
| --- | --- |
| | Phillips has written the definitive history of the Elliott State Forest, Caulked Boots and Cheese Sandwiches. He has also collected and maintained hundreds of historical maps, photographs, and publications specific to the Elliott's history that he has made available for this project. |
| | Oral History Recordings. A series of three oral history interviews, totaling 14 hours, were recorded with Phillips while touring the Elliott on October 10, November 8, and December 6, 2017. The November 8 tour included David Gould and focused on forest history and the December 6 tour included Roger Johnson and focused on reforestation operations. A separate one-hour hour recording for this project, regarding the Forest's fish and fishing history, was conducted at the Coos Bay History Center with Bob Jacobson without Phillips being present. |
| | Maps. In addition to the original maps from his history of the Elliott, Phillips has also provided copies of historical maps from his private collection and continues to create new maps to the present time that are also being added to these selections as they are scanned and become available. |
| | Photographs. A selection of historical photographs covering the years 1917 to 1996 from Phillips' history of the Elliott, focused on key historical events and locations in the Forest preceding the 1962 Columbus Day Storm event. |
OTHER HISTORICAL REFERENCES
| | | | | |
| --- | --- | --- | --- | --- |
| AUTHOR(S) | DATE | PUBLISHER | TITLE & DESCRIPTION | PDF |
| Beckham, Dow | September 1, 1991 | Arago Books | Swift Flows the River: Log Driving in Oregon | N/A |
| Farnell, James | October, 1981 | Division of State Lands | Smith River and Umpqua Tributaries Navigability Report | 9_MB |
| Mahaffy, Charlotte | 1965 | Interstate Press | Coos River Echoes: A Story of the Coos River Valley | N/A |
| Peterson, Emil and Alfred Powers | 1952 | Binford & Morts, Publishers | A Century of Coos and Curry: History of Southwest Oregon | N/A |
| Plummer, Fred | October 23, 1912 | Washington: Government Printing Office | Forest Fires: Their Causes, Extent and Effects, with a Summary of Recorded Destruction and Loss | 7_MB |
| Youst, Lionel | 2011 | Golden Falls Publishing | Lost in Coos: "Heroic Deeds and Thrilling Adventures" of Searches and Rescues on Coos River, Coos County, Oregon 1871 to 2000 | 7_MB |
| Zybach, Bob | March 20, 2017 | Oregon Fish & Wildlife Journal | "Forest History vs. Forest Science: 1993 Elliott Management Plan" | 7_MB |

© 2017, 2018 Oregon Websites & Watersheds Project, Inc. & NW Maps Co.