2018 SWOCC Elliott State Forest Draft Recreation Plan
Appendix: Elliott Forest Educational Field Trips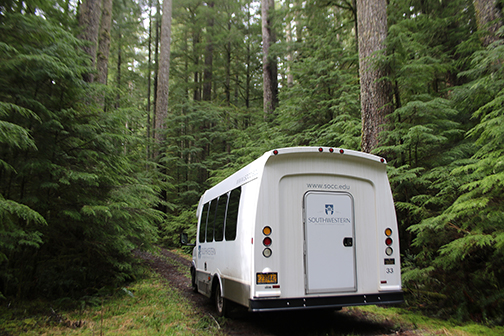 Southwestern Oregon Community College (SWOCC) Spring Term F 251 Forest Recreation class leaving Silver Creek Heritage Grove, April 17, 2018. Photograph by Anne Farrell-Matthews.
Citation: Amy Kronsberg, Tara Boyd, Maggie Boone, Cole Smith, Daniel Patton, Carter Carr, Matthew Hofenbridl, Maxwell Richcreek, Matthew Smith, Abigail Richards, Cody Harkins, and Scott Guthrie 2018. 2018 Draft Elliot State Forest Recreation Plan. Oregon Websites & Watersheds Project, Inc., Philomath, Oregon: 65 pp. [PDF: 7 MB].
The following six field trips formed the basis of much of the research that went into this draft plan. Each of the trips was accompanied by a 10- to 20-page handout including a planned itinerary, relevant background references, a map, and select photos and text excerpts. The itinerary outline and map are included for each of the field trips in this appendix. Complete handouts in PDF and Word (for updating and editing) formats, with active links, are available here: http://www.orww.org/Elliott_Forest/Recreation/Field_Trips
Base maps for these field trips were constructed by Amber Ross, Elliott Land Manager for the Oregon Department of State Lands, during a series of oral history interviews while touring the Elliott with Jerry Phillips during Fall 2017. Field trip-related annotations are by Bob Zybach.
1. Elliott History/Elkhorn Ranch Field Trip (April 17)

2. Millicoma Fish Hatchery Field Trip (April 24)

3. Tenmile Lakes Field Trip (May 1)

4. Loon Lake Field Trip (May 15)

5. Golden and Silver Falls Field Trip (May 22)

6. Deans Mountain Field Trip (May 29)

© 2017, 2018 Oregon Websites & Watersheds Project, Inc. & NW Maps Co.