ORWW/SWOCC 2020 F 251 Elliott Forest "Virtual" Field Trips & Workshops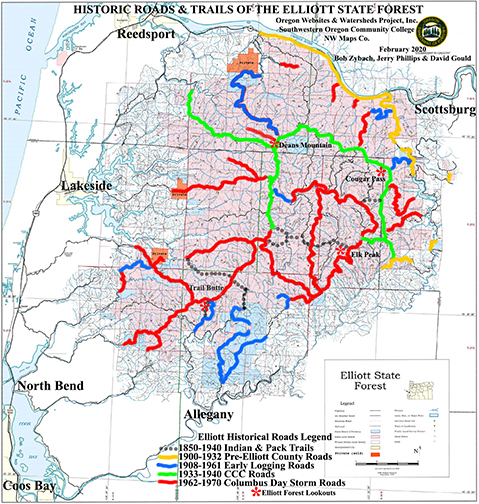 Southwestern Oregon Community College (SWOCC) spring term 2020 F 251 Forest Recreation "virtual" field trips and student research topics map: historic roads, trails, and lookouts (Zybach, Phillips and Gould 2020).
Here are the five "virtual" field trips and three workshops undertaken during spring term 2020 by the SWOCC F 251 Forest Recreation class. Studies will fous on the historic lookouts, roads, and trails of the Elliott State Forest (Phillips and Zybach, October 10, 2017: 95-106; December 6, 2017: 133-141). These products have been created by Oregon Websites & Watersheds Project, Inc. (ORWW) and NW Maps Co. specifically for educational and research purposes. Funding has been provided by these organizations and by David Gould, Coos Bay Timber Operators, Inc.; B. Bond Starker of Starker Forests, Inc.; and by Dr. David Sullivan, Sandbox Designs.
"I'd been vaguely aware of the Forest's existence since attending Oregon State College, where it was described in college literature as an undeveloped State-owned forest of young timber lying between Coos and Umpqua Rivers, dedicated to educational purposes." (Jerry Phillips 1998: iii)
April 14
Workshop #1

Introductions & Outline. Introduction of principals and topics specific to 2020 SWOCC spring term F 251 Forest Recreation class "virtual" field trips and related student research topics. Video (39:34).

April 21
Field Trip #1

Elkhorn Ranch. This introductory field trip focused on human history of the Elliott: Larson Redwoods; Trail Butte; Elkhorn Ranch; Jerry Phillips Reserve; Indian Trail Spring; Boehner's WW I-era railroad logging camp. Video (35:53).

April 28
Field Trip #2

Deans Mountain. Field trip to each of the four historic Elliott lookout stations: Deans Mountain, Cougar Pass, Elk Peak, and Trail Butte. Focus is on 1930s CCC roads; Indian trails; pack trails; and historic post-1962 logging roads. Video (24:50).

May 5
Workshop #2

Cinco de Mayo. Workshop focused on report outlines for student research topics and methods for improving "virtual" field trips: Section 106; SHPO; linear resources; tests of significance; and documentation. VR? References. Video (40:34).

May 12
Field Trip #3

Loon Lake. Northern Elliott Forest recreation and access: Scottsburg I-5 gateway; BLM elk viewing; Hinsdale rhododendrons; Mill Creek; Loon Lake; Huckleberry Point; Cougar Pass old-growth; Indian Point. Video (25:36).

May 19
Field Trip #4

Tenmile Lakes. Western and central Elliott Forest history and access: Elkside Lumber Co.; Benson Ridge Road; Divide Springs; Bert, Clarence, and George Gould, Jr. cabin sites; Gould Lake; Big Saddle; Jerry Phillips Reserve. Video (47:11).

May 26
Field Trip #5

Golden and Silver Falls. Skirts the southern and southeastern borders of the Elliott, along the Glenn Creek County Road from Allegany to Loon Lake and Scottsburg before WW I: Allegany steamboat landing, Save the Myrtle Woods, East Fork Millicoma splash dams and logging camps, Golden and Silver Falls. Video (1:20:22).

June 2
Workshop #3

Last Call. This is the third and final SWOCC spring term 2020 F251Workshop. It is intended to be a brief summary of this project, to offer encouragement and suggestions for participating students, and to provide basic links for completing assigned reports. (Video 17:17). References.

© 2020 Oregon Websites & Watersheds Project, Inc. & NW Maps Co.