2019 SWOCC Elliott State Forest Draft Recreation Plan
APPENDIX C: Elliott Forest Educational Field Trips
By Koby Etzwiler, Kelsey Morrison, and Kainoa Altier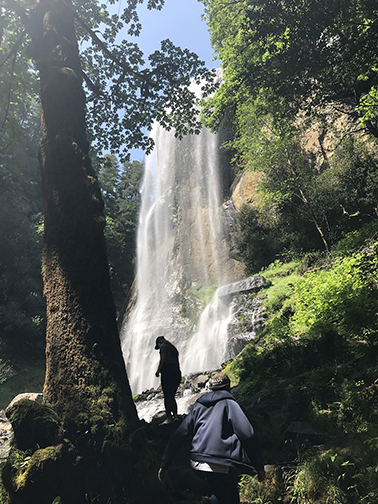 Fig. C.1. "Below the Falls" Photo taken during Golden and Silver Falls Field Trip by Koby Etzwiler.
The Southwestern Oregon Community College spring term Recreation Resource Management class went on five field trips this year, where we gathered information and knowledge on which much of this report was based on. On each field trip, Dr. Bob Zybach provided the students with 10- to 20-page handouts detailing the stops we made and a little bit of information about them. A summary of each field trip as well as recommendations for future trips are included, along with a map outlining the path of the trip constructed by Koby Etzwiler using the AllTrails App on his smartphone. Recommendations were written with the help of Kelsey Morrison and Kainoa Altier.
1. Elkhorn Ranch (Elliott History) Field Trip  (April 23, 2019)
2. Millicoma Fish Hatchery Field Trip (April 30, 2019)
3. Deans Mountain Field Trip (May 14, 2019)
4. Loon Lake Field Trip (May 21, 2019)
5. Golden and Silver Falls Field Trip (May 28, 2019)
1. April 23rd, 2019 Elkhorn Ranch (Elliott History) Field Trip
During the first field trip of the year, our class gained insight into Elliott's history with the one who knows it best: Jerry Phillips. The trip was largely a "windshield cruise" with a few stops for explanations and a couple opportunities to get out of the car. For several of us, it was our first time in the Elliott, for others, their hundredth. We stopped at the entrance to the forest and Trail Butte, but didn't get out of the bus. Instead, we learned a bit about the history before proceeding to the next spot. We did, however, get out at a camping spot along the river (Fig. 1) and accompanied Jerry for his first time to the newly renamed Jerry Phillips Reserve. For those of us on the trip, our favorite parts were learning the history of the places we looked at, seeing the amount of pure nature, and when we were able to get out and experience everything hands on. On the other hand, we noted the complete lack of signage, labels of locations, and we all wished we got to spend more time in each of the locations. This was a good field trip, but if Jerry hadn't been there to give a lot of background, the lack of signage would have made it hard. No AllTrails map was available for this trip.
>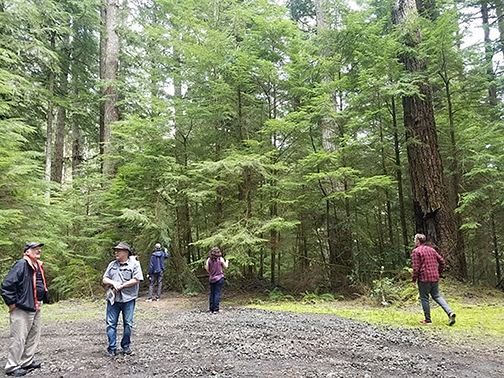 Fig. C.2. "Jerry Phillips Reserve." Jerry Phillips, Bob Zybach, and SWOCC F251 Forest Recreation students on "Elkhorn Ranch" Elliott State Forest history field trip. Photo by Hunter Black-Priest, April 23, 2019.
***
2. April 30th, 2019 Millicoma Fish Hatchery Field Trip

On this field trip we went to fewer locations, but we got to spend more time out of the bus which was much better. We took a different route to the Elliott, driving by the Allegany Historical Steamboat landing and discussing its history before stopping at the Boy Scout Camp. There we  learned about its history, current situation, and what ideas they have to fund it moving forward. We spent a little bit of time by the water's edge with Antonio Salgado talking about the salmon smolt in there before walking over to the fish hatchery, looking at the facility and learning more about what they do there. In a personal communication, Kelsey Morrison stated that, "Antonio has a great program for education at the fish hatchery and I really feel if they were able to expand what they currently have with funding, it would lead to even more of a desire for people to come visit." After that, we made our way through the forest, stopping again at the Trail Butte, but this time getting a chance to get out and enjoy the view before proceeding onwards. We exited through a gated part of the forest, driving through the Kenstone Quarry before leaving the forest. Once again, everyone wished we had more time out of the vehicles because the places we did stop were really wonderful and the things we learned were very helpful in coming up with possible management plans for later. None of the places we stopped were marked by any kind of signage (once again) and you'd have no idea they were out there unless you'd already been there. Students interested in fisheries will really benefit from this trip. All of these areas offer huge possibilities for recreation.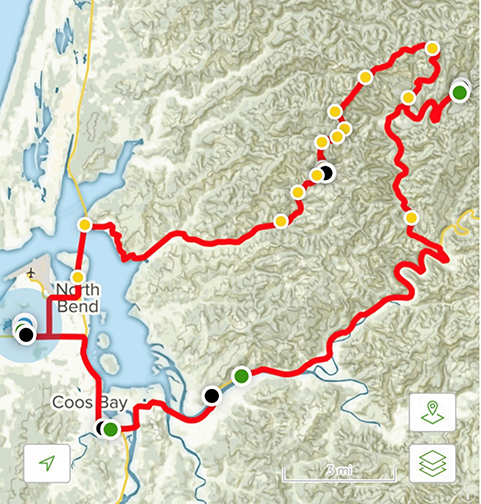 Map C.1. Millicoma Fish Hatchery Field Trip, April 30, 2019. By Koby Etzwiler (AllTrails App).
***
3._May 14, 2019 Deans Mountain Field Trip
On the 2019 Deans Mountain field trip, we got to look at several different aspects of recreation. The first stops were Tugman and Tenmile Parks, where we looked at how each were managed, compared their funding, and usage. In a personal communication with Kainoa Altier, he stated, "If I would change anything about this trip for future classes, I would have liked to talk to managers at the parks or on-site representatives of the park to have them further explain cost and details of these campgrounds. That way we could have a better understanding of the differences between these campground beyond just their appearance." Afterwards, we drove to the top of Deans Mountain, taking a couple window tour stops along the way, looking at School Land Bay, Divide Spring, the CCC Mud Flat Camp, Old-Growth Mix, Scholfield Ridge Road, and Camp Walker. Once we reached the peak, accessible by key, we were able to get out and almost enjoy the view (if it weren't for the fog). There we talked about the history and significance of the location. Everyone enjoyed spending time on the peak and being out of the vans. This trip was very beneficial for students who are looking into camps and the economic side of recreation management.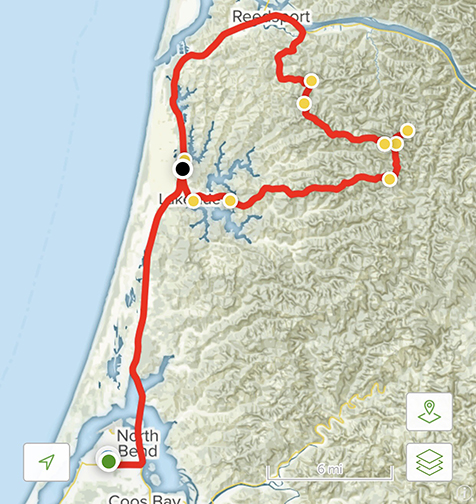 Map C.2. Deans Mountain Field Trip, May 14, 2019. By Koby Etzwiler (AllTrails App).
***
4. May 21, 2019 Loon Lake Field Trip

On the Loon Lake Field Trip, we started by looking at the Elk Viewing Area, discussing it's economics and the potential for similar sites around the Elliott. Kelsey Morrison stated, "Having an opportunity to see what other types of informative and interpretive signs located at the Elk View point was a good inspiration as to what could be done at the Elliott Forest." We were unable to stop at the Rhododendron Garden due to construction, but what we saw from the road looked beautiful. Next we drove through several campgrounds around Loon Lake, comparing them with private campgrounds in the area. After that, we pulled off at Huckleberry Point, and several of us took a small hike through thick brush to determine if it would be a good area for development. We concluded that due to the landscape, the most that could be put in there is a small trail, if that. Lastly, we stopped at the Indian Point Trial. A few of us once again traveled down the trail, coming out at a river, a site which could be great as a potential campground. This trip was great for students to look at different camp sites/recreation areas and critically think about their application into other parts of the Elliott.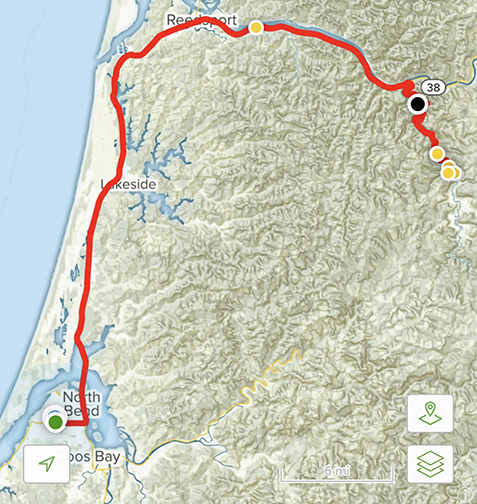 Map C.3. Loon Lake Field Trip, May 21, 2019. By Koby Etzwiler (AllTrails App).
***

5. May 28, 2019 Golden and Silver Falls Field Trip
The Golden and Silver Falls field trip is the most fun field trip of the year. We started by driving by Rook-Higgins County Park and boat launch, talking about the history and how the area is used. Next we pulled into the parking lot of the Allegany School and discussed the possibility of using it as a base of operations for activities in the Elliott. We were also able to talk to Sam Schwarz about his work in the Elliott and upcoming events regarding the forest's future. After that, we walked through the Nesika County Park and admired the scenery and setup before moving to our final location: Golden and Silver Falls. For many of us, this location was the highlight of our trips. We spent some time by the base of Silver Falls, and then hiked to the top of Golden Falls and enjoyed the view. We finished the day with some donuts on the way home. This field trip is great for any student who cares about nature. Golden and Silver falls is a great example of a location that needs to be kept in pristine condition, but signage or facilities at the base could really benefit the area and possibly be a great source of revenue for the Elliott.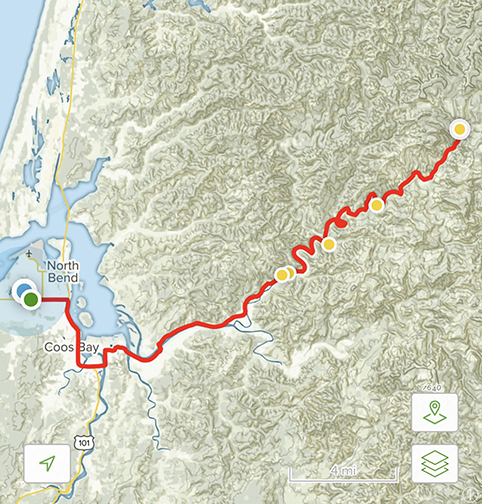 Map C.4. Golden and Silver Falls Field Trip, May 28, 2019. By Koby Etzwiler (AllTrails App).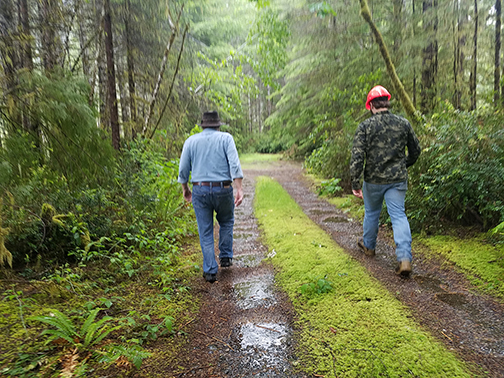 Indian Point Roadbed. Bob Zybach and Sebastian Bartlett, Loon Lake Field Trip. May 21, 2019 photo by Hunter Black-Priest.


© 2017, 2019 Oregon Websites & Watersheds Project, Inc. & NW Maps Co.