Elliott State Forest Photographs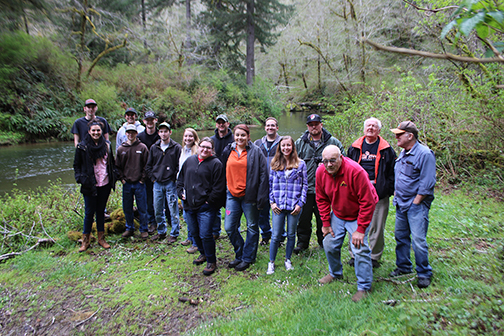 Southwestern Oregon Community College (SWOCC) spring term 2018 Forest Recreation class with tour guides on the West Fork Millicoma River, near Elkhorn Ranch. Photo taken April 17, 2018 by Anne Farrell-Matthews, SWOCC photographer.
These photographs are selected from the articles, reports, and this website for which duplication rights exist. They have also been collected and created during the course of a series of oral history interviews with Jerry Phillips during the Fall 2017. Historical photos are used by permission of David Gould, Jerry Phillips, Roger Ott, David McClay, and Lionel Youst; contemporary photos have been primarily taken by Bob Zybach during the course of the oral history interviews, and by SWOCC photographer Anne Farrell-Matthews during the course of educational field trips undertaken by the SWOCC spring term Forest Recreation class.
Please feel free to use photographs for research and education purposes, but make certain to reference their source and photographer when images are duplicated or otherwise broadcast.
2018 SWOCC Elliott State Forest Draft Recreation Plan Figures
Jerry Phillips Historical Elliott State Forest Photographs
Gould-McClay Family Historical Photographs
| | |
| --- | --- |
| | Elkhorn Ranch. Historical photos dating to the 1880s from the Gould family collections and contemporary photos collected and taken during Fall 2017 Elliott Forest oral history tours and subsequent student field trips. Selection includes nearby locations such as Goulds Lake, Silver Creek Heritage Grove, North Marlow Ridge clearcut, and Boehner Logging Camp site. |
| | Elliott Forest Educational Field Trips. Photographs, maps, and PDF reference files documenting six four-hour (from Coos Bay) educational field trips taken by SWOCC spring term 2018 Forest Recreation class. Focus of the field trips was recreational opportunities in the Elliott and adjacent lands, with intent of formalizing the tours for future student and public uses. |
| | Golden and Silver Falls. Historical and contemporary photographs of recreational opportunities and attractions bordering the southern boundaries and entrances to the Elliott, including: Golden and Silver Falls; Allegany; Coos and Millicoma Rivers; Nesika and Rooke-Higgins County Parks; and 1950 Millicoma Myrtle Wood reserve. |
| | Millicoma Fish Hatchery. The STEP (Salmon Trout Enhancement Program) Millicoma Interpretive Fish Hatchery was established by Oregon Fish and Game Department in 1991 on the West Fork Millicoma River adjacent to the historical Weyerhaeuser Girl Scout Camp and bordering one of the best winter steelhead fishing spots in Coos County. |
| | Tenmile Lakes. The eight lakes known collectively as "Tenmile Lakes" have their eastern headwaters in the western portion of the Elliott State Forest. Local recreational opportunities are centered in the town of Lakeside and are included in the 2018 SWOCC Elliott Recreational Draft Plan, which has Highway 101 as its western boundary, separating it from the Oregon Dunes National Monument. |
| | Loon Lake. These photographs include the Loon Lake recreational area on the northeast boundary of the Elliott, Ash Valley, the Umpqua River between Scottsburg and Highway 101 bridges, the Deans Creek elk viewing area, and the Scholfield Creek drainage between the Highway 38 and Highway 101: essentially the northern boundary of the Elliott and adjacent lands south of the Umpqua River. |
| | Deans Mountain. These JPEG photograph files have been provided by Jerry Phillips, taken from ORWW reports and articles by Dr. Zybach, donated or published by members of the Gould family, selected from the public domain, or obtained from other sources. The images are specific to the Elliott Forest and available for student use and public display. |

© 2017 Oregon Websites & Watersheds Project, Inc. & NW Maps Co.